It's very easy to take for granted the answer to "What is WordPress?" as a freelance web designer…
But for people who are less familiar with it and the world of web development…
What is WordPress?
And how can it benefit you and your business?
Simply put, WordPress is free, open source software that can be used to create websites and blogs…
To start with, it was mainly known as blogging platform. However, over the last 10 years, its features have advanced. Today, with the necessary skills, you can create almost any type of website using WordPress.
WordPress is Incredibly Popular
It's the worlds most popular web software and (according to statistics compiled by W3Techs) now powers 22% of the web. It's the ideal solution for anyone looking for a website thats easy to update, expand and self maintain.
WordPress is used by 60.2% of all the websites whose content management system we know. This is 22.4% of all websites.
– W3Techs
There are an estimated 60 million WordPress websites online. From TechCrunch, CNN and TED, to small businesses and freelancers. Individuals and organisations from all walks of life use it to publish their content.
"WordPress was used by more than 22.0% of the top 10 million websites as of August 2013. WordPress is the most popular blogging system in use on the Web, at more than 60 million websites."
– Wikipedia
WordPress is User-Friendly
WordPress has a content management system (CMS). A CMS is a user-friendly admin area that can be used to update, expand and create new website pages. Without the need for any web development skills.
And a WordPress CMS makes it incredibly easy to update and add website pages and content, from a single backend admin panel, by yourself or by outsourcing the work to a WordPress support service.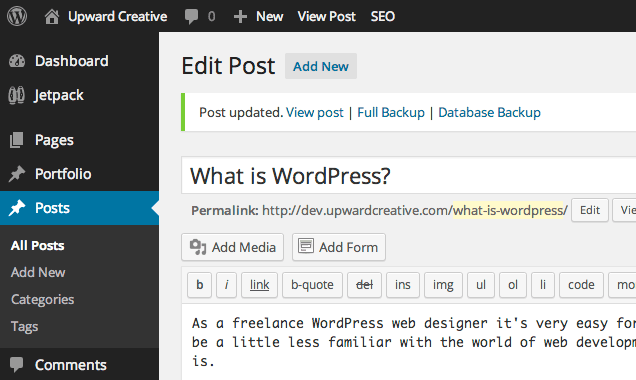 Although it's used everyday by big businesses all over the world, it's simplistic enough that anyone who can use basic word processing software can use it to manage their website content. If you can use software such as Microsoft Word then you can use WordPress. This means no need to hire an on going webmaster or learn complicated coding languages such as HTML and PHP (unless you want to of course).
First launched in 2003, it is considered by many experts to be the most powerful website content management system available today. It can handle all types of content including:
Web pages
Blog posts
Text
Images
Links
Videos
Audio
and much more
Basically any type of data or information you'd want to include on your website.
WordPress is Open Source Software
This means that it's free to use for both commercial or personal projects without restrictions, such as cost or legal parameters.
This encourages hundreds of volunteers to contribute to the core software every year, continually evolving and improving WordPress over time.
This also means it's free for anyone to use or build a website with should they have the necessary web design and development skills. If you've got the chops this gives you the opportunity to create your own website.

And due to its popularity it makes it very easy to hire a professional web designer or developer, if you want a bespoke website design.
The ability to hire a single web designer or developer, rather than an entire company, also allows you to work closely with a single person. This enables you to keep costs down, reduce communication issues and ensure you receive a website that fits exactly with your expectations.
WordPress is Highly Customisable
It has thousands of themes available…
A theme is like a "skin" that creates the desired look and functionality for your WordPress powered website. If you thought of your website as a car then WordPress would be the engine and the WordPress theme would be its body and paintwork.
WordPress has a huge collection of free and premium pre-made design themes available that are interchangeable with a few clicks of a button.
This gives you the opportunity to launch your own website extremely quickly and cheaply, in fact, in a single weekend, for as little as £5…
But if you're going to use a pre-built design theme it's worth paying for a lean, solid foundation and theme to build your site (and business) on, such as any of the themes from Studiopress…
Or if you if you don't have the time or the inclination to go the DIY root, get a professional web designer to launch your pre-built theme, build a customised theme or build a completely bespoke website design tailor made to your business using their rock-solid Genesis Framework.
Whatever your goal or budget WordPress has a solution and you can choose from a pre-made, customised or completely bespoke WordPress website, to give your business the trust, and credibility it needs.
It's Flexible and Extendable
WordPress is easily expandable and has many, many plugins available…
What's a plugin?
Plugins are additional bundles of PHP code or software that can be installed on your WordPress site with a single click.
In simple terms, they give your website additional functionality. There are currently over 31,000 plugins available, designed to do almost anything you can think of.
Here's a just a small list of the plugins and additional functionality you can add with a single click:
It's designed for versatility. As a result, it can be used for much more than a simple blog or business website and for:
E-commerce and online shopping…
Membership Sites…
Galleries…
Portfolio websites…
Ratings websites…
Events calendars…
Online Booking…
Job boards…
And much, much more…
Related: 5 Essential WordPress Plugins for Small Business Websites
It Offers Many Support Options
Due to its huge popularity WordPress offers a fantastic support ecosystem. There are many online trainings available for leaning WordPress basics, including my own WordPress Website Mastery. It's also easy to find online support through the huge range of dedicated blogs, websites and forums available.
WordPress's popularity also makes it very easy to find professional designers and developers if your need a bespoke website or something a little more advanced, or would simply prefer to take advantage of the speed, convenience and knowledge an expert can provide.
It's Search Engine Friendly
WordPress works extensively to ensure that every piece of code is cleanly generated to meets the compliance and web standards of the World Wide Web Consortium, often referred to as the W3C.
This clean and well structure code is vital for good online usability, cross browser compatibility, visibility, search engine rankings and success.
WordPress takes care of 80-90% of (the mechanics of) search engine optimisation (SEO)
– Matt Cutts – Head of Google's Webspam Team
Related: How to do on-page SEO with WordPress
It also offers a built-in registration system. This gives you the option of only allowing registered individuals with profiles to leave comments on your blog. You also have the opportunity to block non registered users from leaving comments.
And also supports RSS. A simple method of allowing your visitors to subscribe and read your blog articles on all their devices via the many free RSS readers available.
Spam protection is also including along with an integrated blacklist to manage and eradicate spam comments on your blog. As is trackback which notify's you of anyone who links back to your site, as well as Pingback, which creates a comment if you link to a different blogs post or article.
WordPress Lets You OWN Your Website
Unlike some third party website solutions WordPress enables you to self host your website (wordpress.org not wordpress.com). This means your not limited by a hosted, propriety system that has full control of your website and content and that could potential disappear overnight.
Creating a self-hosted website using reliable website hosting, means your website is not locked into a monthly contract or held hostage by a single website builder service. Self hosting means, YOU OWN your website and all of its content. Your website is YOUR asset and you can change it and move it to a different host if something is not to your liking.
WordPress also makes it extremely easy to export and import your content between different platforms should you wish to WordPress to another platform.
Final Word on WordPress
Over 10 years since it was first introduced to the world; WordPress has made a significant impact on the internet. It's also made a significant difference to the ease and efficiency in which companies can build and operate both their websites and business's.
I know I'm a big fan. But what about you?
Do you have any questions about WordPress? Does that fully answer the question "What is WordPress?" for you? Let me know in the comments section below.
Or if you'd like to discuss goals for a new website get your private website design consult here now and I'll be happy to help you achieve them.